Our Services
Utilizing our own proprietary software and technology stack, Blu's full-service digital media offerings are tailor-made to meet your ever-growing needs. Our team of experts is always on the forefront of what's next across the digital distribution supply chain.
Blu understands how and where your viewers are consuming content. We use that knowledge to design solutions that help you stay ahead of the curve.
Mastering
Mastering Your Content for Global Entertainment
Mastering episodic and movie content is no easy feat. You must have industry-grade experience, meticulous attention to detail, and the ability to get things done no matter the situation or deadline. Blu's leadership and experience enable our technology to provide the best versions of your content to audiences worldwide.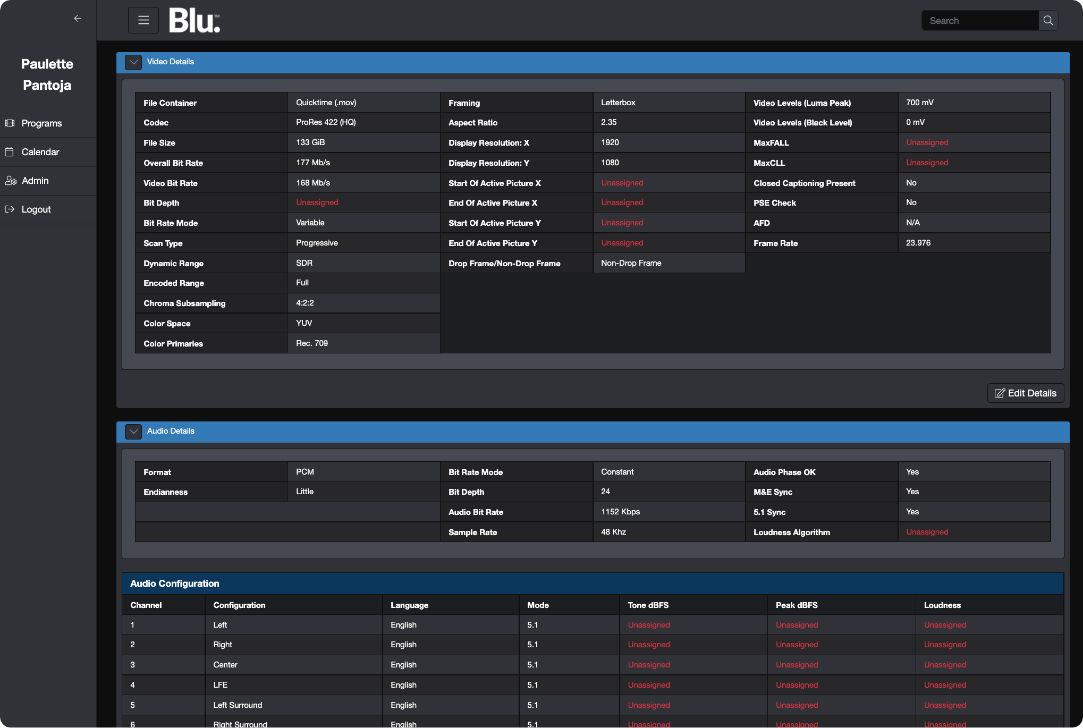 24/7 Support
Blu's in-house team of professional editors and encoders are hands-on throughout the process. We're here to answer any question at anytime.
Master QC with BluMQC
Our team is equipped with the industry's best software and tools to ensure the highest quality content is packaged and delivered, everything.
Mastering Format Support
We offer HD and UHD content mastering so your content looks as it was intended to. We can ingest any file type from ProRes source files to advanced formats such as IMF ML7, ML6, ML4, J2K.
Industry Tools
We use state-of-the art technologies that serve the needs of our industry clients – from Dolby Atmos to forensic "watermarking" to name a few.
Localization & Accessibility
Localizing Content for All Audiences
Expand the viewership of your content to anywhere across the globe. Our comprehensive localization services are set up to maintain the integrity of your content and efficiently deliver entertainment to new audiences with authenticity.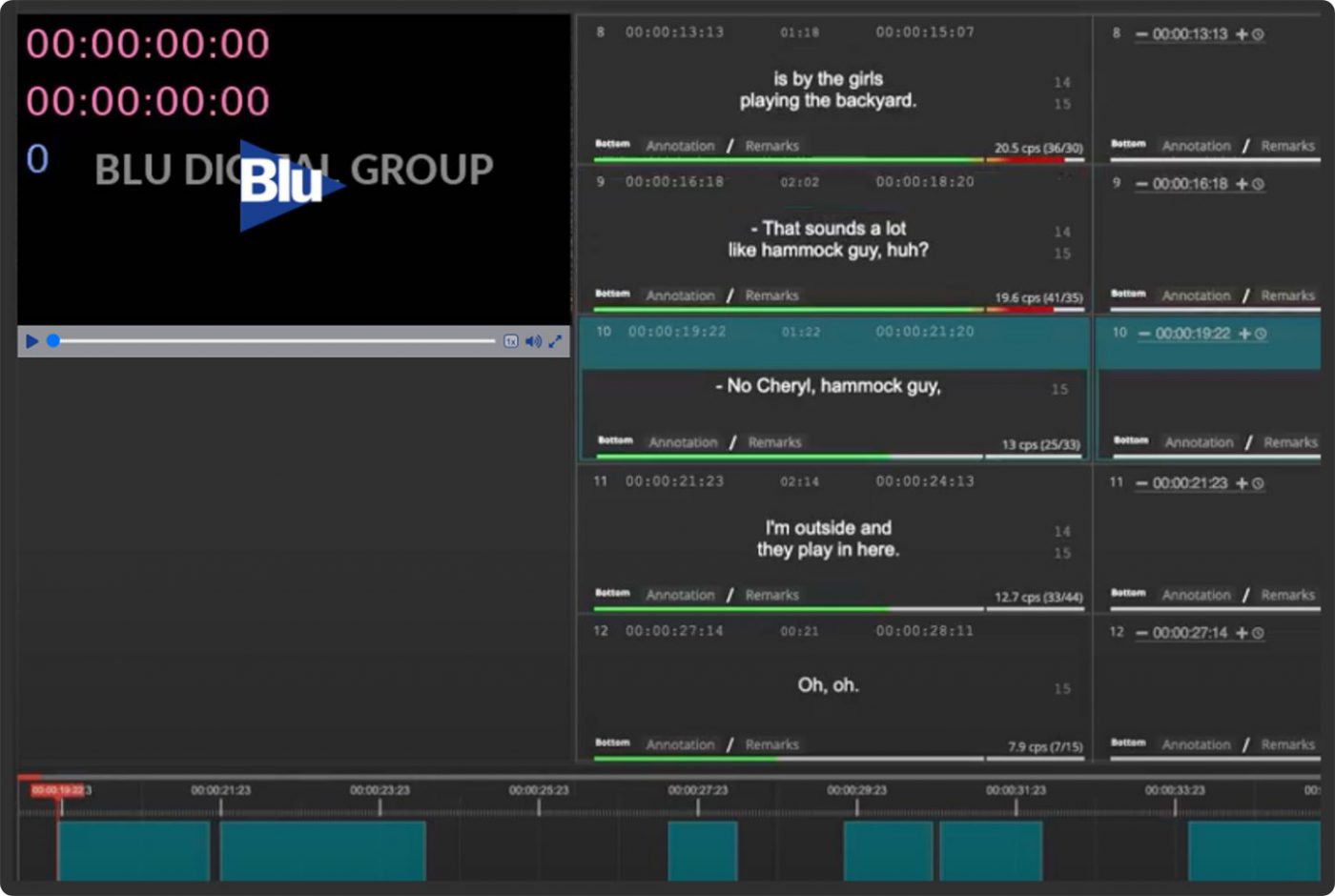 Subtitling
We partner with the world's leading translators and 9,000+ native linguists who are well-versed in 80+ languages, ensuring story authenticity and integrity.
Dubbing
Our network of voice talent, sound engineers, and project managers enable us to deliver quality translations and script adaptations that you can trust.
Captioning
Reach wider audiences with Closed Captions, Audio Description, Hearing Impaired Mixing, Descriptive Transcript and Sign Language.
Audio Description
Our suite of cutting-edge QC tools, plus our team of industry experts, guarantees high quality with every translation, every time.
Packaging & Delivery
Trusted Packaging & Delivery
Cutting-edge SaaS tools coupled with our team of dedicated experts, Blu can package and deliver high-quality media content to any video distribution platform or channel.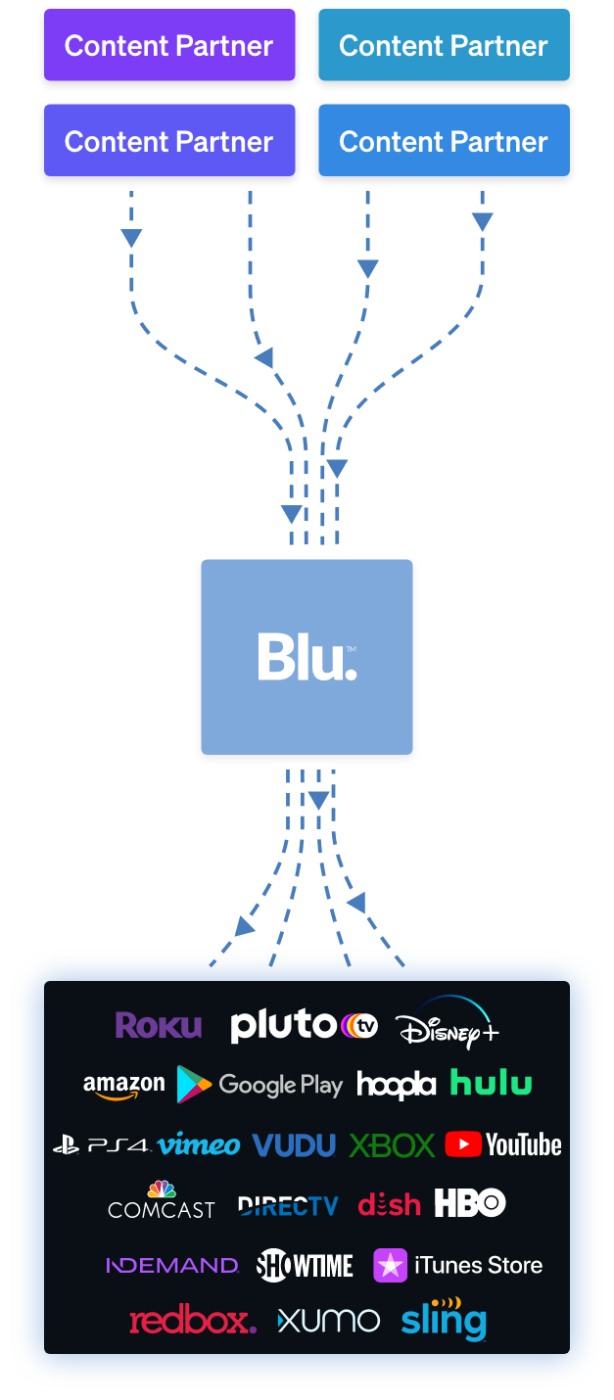 Platforms
We pride ourselves on being platform-agnostic. We support AVOD, TVOD, SVOD, NVOD, FVOD, Fast, Linear Broadcast
Metadata Preparation
Ensure that metadata is not only accurate but aligns with the platform's specifications and usage.
Cue Point Creation & Validation
Frame-accurate cue points to display ads, indicated chapter points, intro credits, "Previously On", or end credits validated by destination-specific parameters or your own custom specification.
Video/Audio Editing
Perform common content preparation tasks in the cloud such as trimming, cropping, audio channel mapping, timecode adjustment, frame rate conversation, normalize audio, and more.
Transcoding/Encoding
Transform files into the necessary format for final delivery using Blu's approved destination-specific profiles or using your own specifications.
Delivery Methods
Delivery seamlessly with MRSS/XML feeds and JSON endpoints, Aspera, bucket-to-bucket or cloud-to-cloud, in addition to many distributor-specific methods all included with your license.
Cloud Storage
Access Everywhere
Download your files whenever, wherever, and as much as you want with no egress or restore fees, and all for a flat subscription rate. Experience Blu's revolutionary media storage offering, and stop over-paying for accessing your content.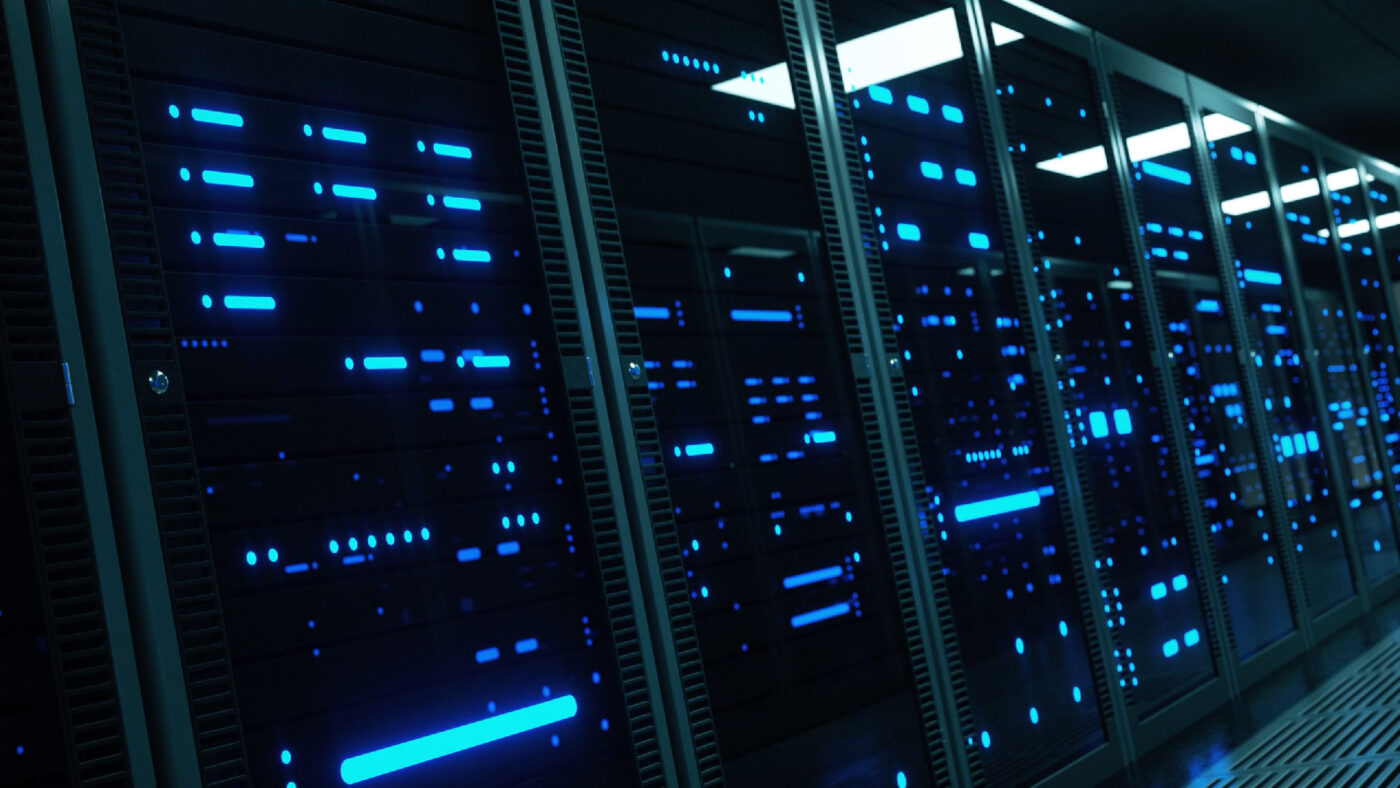 Flat Rate
Store your files at a flat rate based on your
tier usage.
Visibility
You have full access, and visibility, to all of your files in an organized Title-based folder structure.
Share Files
Share files as you need with a password and expiry date to others to either view or download.
No Egress Fees
Download your files whenever you desire WITHOUT CHARGE.
Integrate with your MAM System
Connect your MAM to our storage for easy viewing, organizing and sharing.
Automatic Customized Proxy
Seamless and flexible creation from offline to final delivery-ready files with TC and frame number burn-in. Run hundreds of proxies or transcodes simultaneously without down-time and see which edits were made.
Quality Control
Control for
Every Format
Delivering high-quality content is paramount to meeting customer expectations. Our team of technicians and best-in-class technology ensure that your content is viewed at its best, just the way you intended.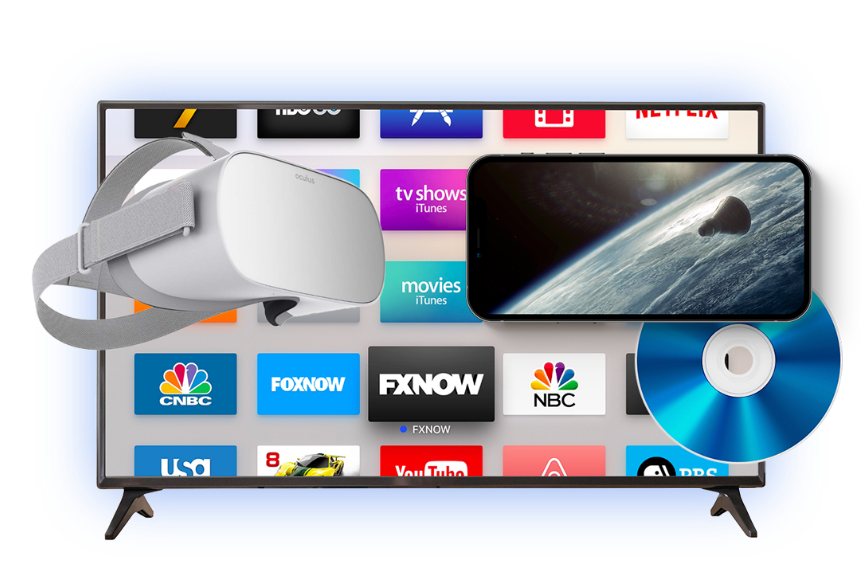 Virtual Reality Testing and Development
Blu provides all the testing, support, and management needs for your Virtual Reality content and technology requirements including Virtual Reality Quality Control, Assurance, Testing, and Usability.
Blu-ray/DVD
Your thorough project includes compatibility so your media is consistent across all players. Blu reviews and adjust the audio, video, and subtitle content of your disc using a very deliberate and comprehensive approach.
App and Software
Our hands-on, customized solutions utilized manual and automated processes to ensure that applications are of the highest caliber utilizing real-world and controlled environments.
Digital Distribution
Blu analyzes and delivers digital media content during all stages of production and to the hardware/software and technologies used for playback, to ensure compliance with Industry specifications and overall quality.
Master QC
Blu applies proven services for video and audio to ensure excellence in mastering and encoding for a variety of intended formats. Picture and sound quality is tested for 4K/UHD, SD, HD,
and 3D.