Technology
Tailor-made for Entertainment Distribution
Industry-leading suite of enterprise applications for media and entertainment distribution, built for media distribution professionals just like you. Completely customizable and configured to your unique workflows.
The entertainment industry's leading content creators and storytellers rely on Blu to skyrocket productivity and efficiency across the digital media services workflow.
Bluconductor
From complex to simple. The Leading Solution for Project Management.
Pick and choose the tools and features that will make your team more robust, efficient, and scalable. It's everything you need for digital media distribution, in one place.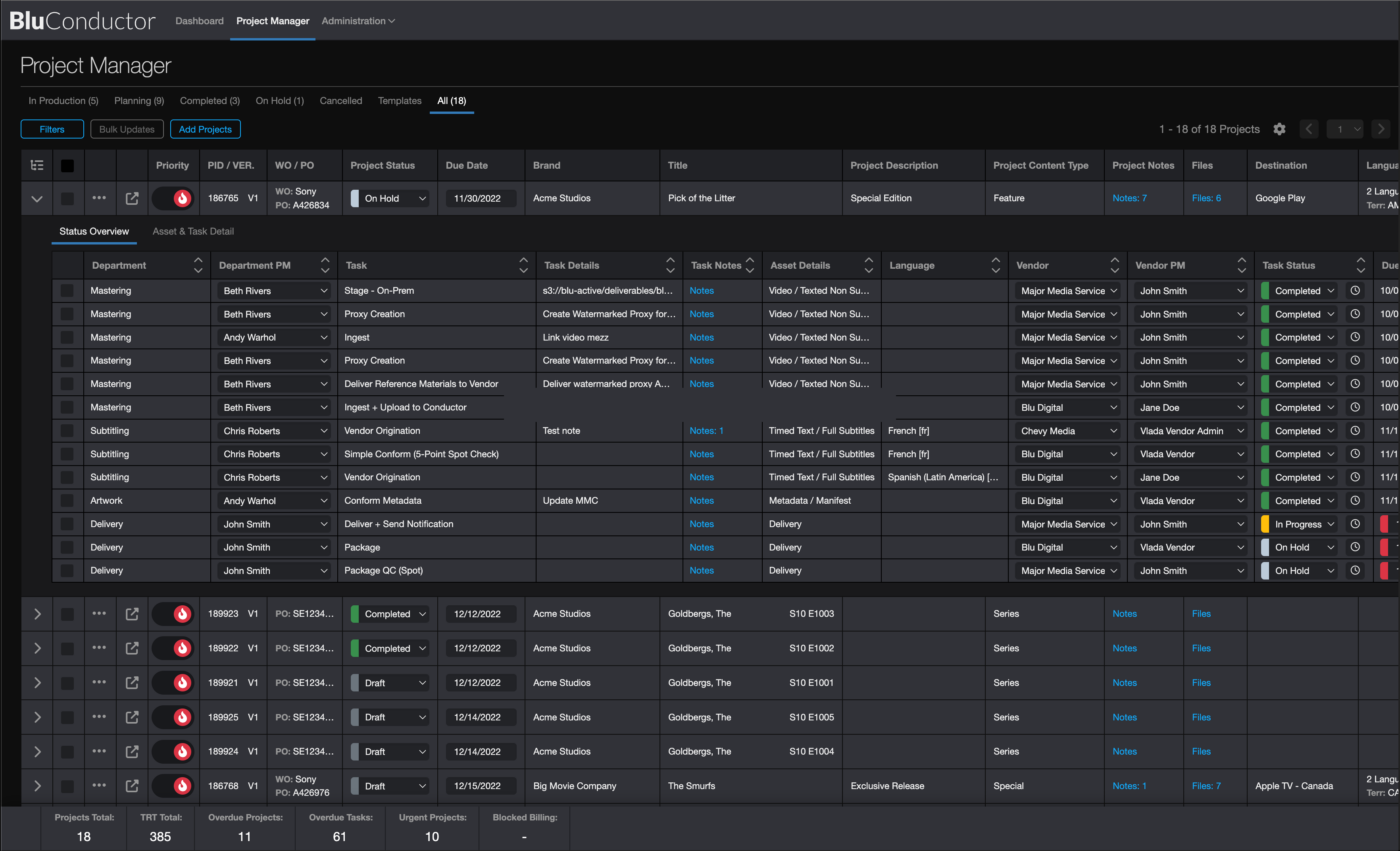 Versioning Control
Easily track previous and latest versions of your media project.
Due & Delivery Dates
Have full visibility into when each task is due.
Ordering
Get work order generation with specifications and cost vs. time analysis with billing and rate cards.
Asset Tracking
Don't miss a beat. Track everything from delivery, QC, vendor assigning, etc.
Reporting & Metrics
Generate custom reports, with insights and important metrics, based on key BluConductor features including operator and client performance.
Gain full visibility and understand crucial trends, track orders, see asset rejection rates, and monthly statistics like project completions.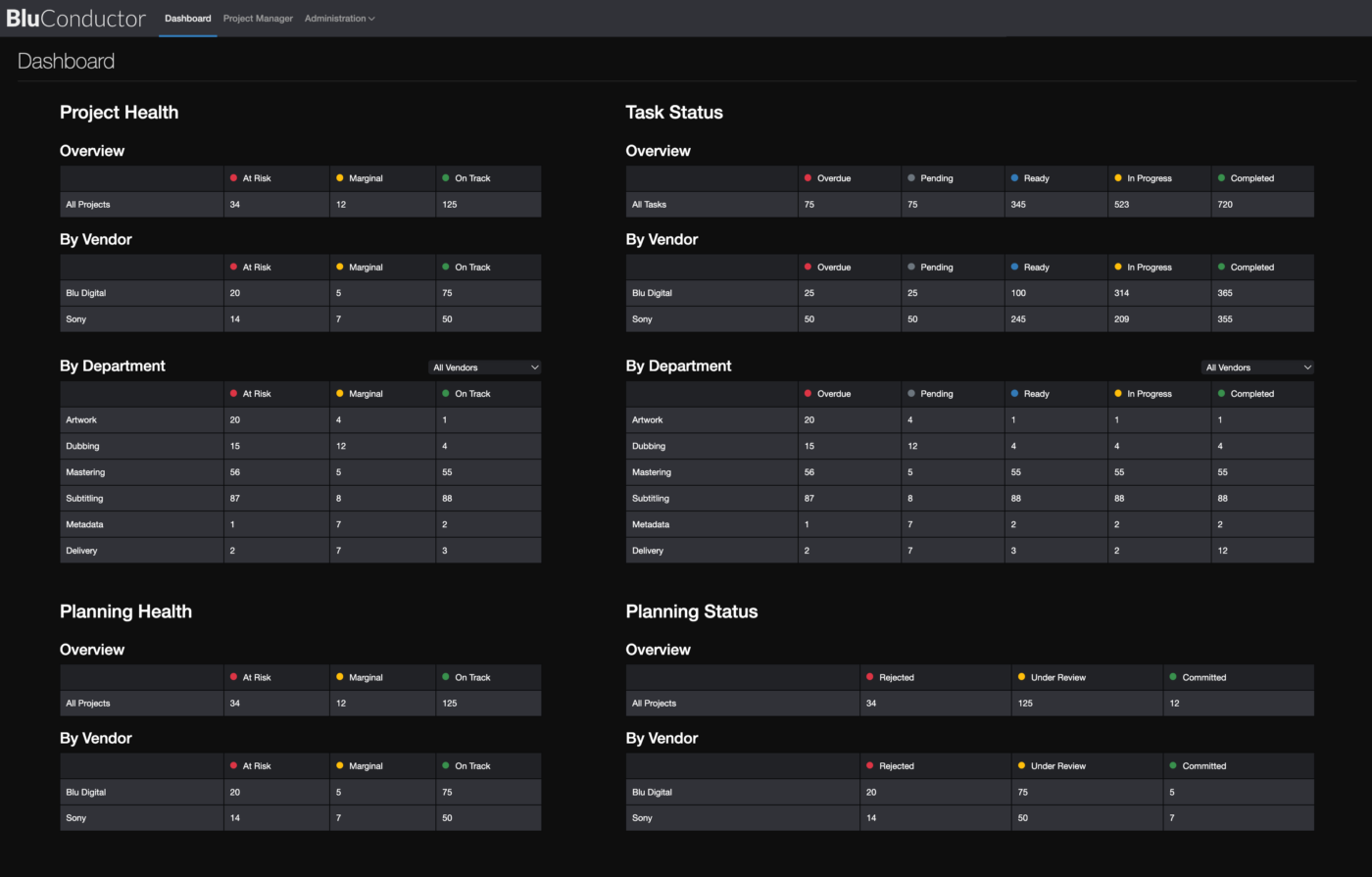 Project Performance
Understand the overall project performance with monthly statistics.
Seamless Integration
Our API connects with other systems to integrate seamlessly with the tools you're already using.
Notifications
Ensure that your team is working toward the same goal with email, system, and text notifications to further communicate reports, status, and needs.
BLUQC
Interactive QC with Automation Technology
Gain access to an enterprise-grade suite of applications that generate automated quality control reporting and playback, anytime you need it.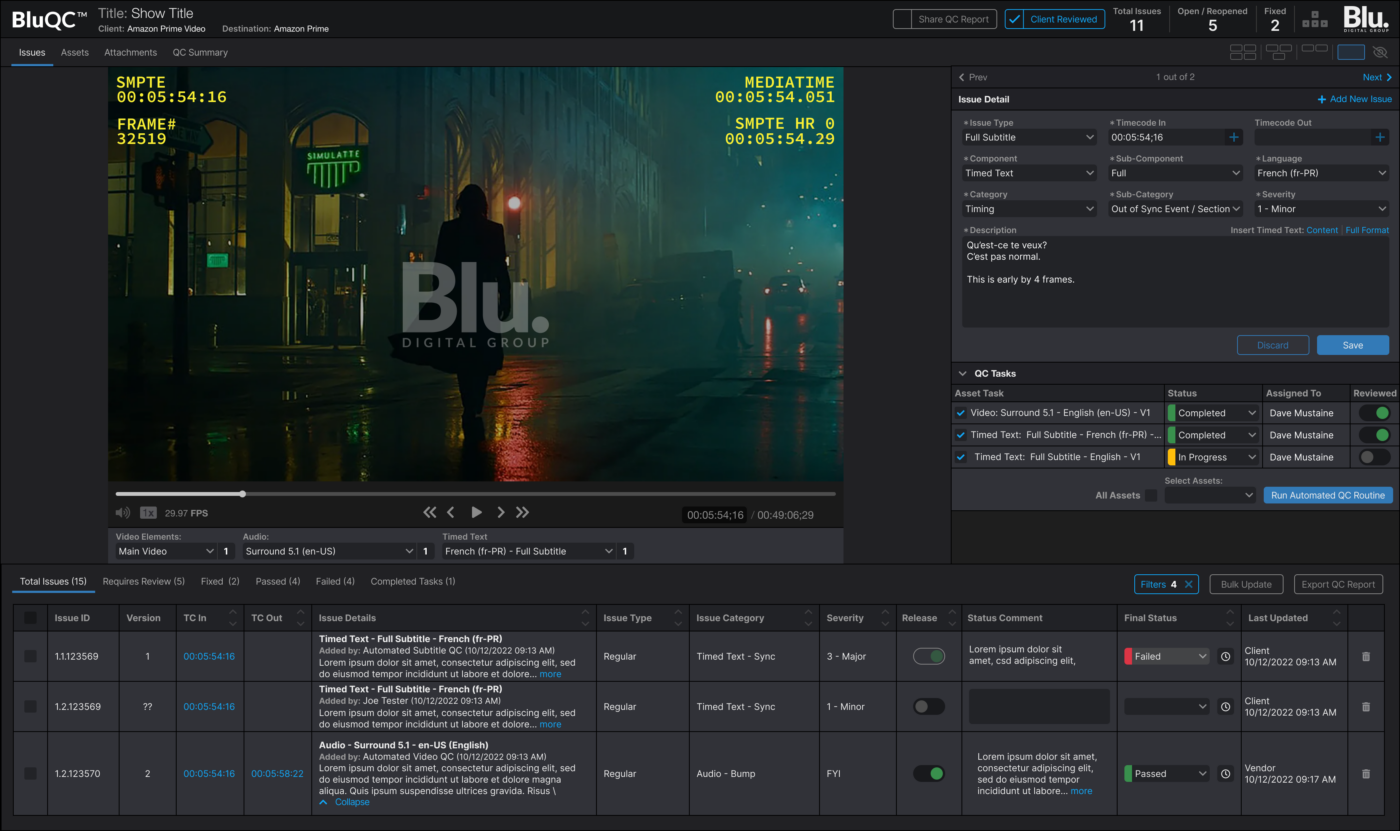 Automated QC
Automated QC of video, audio or subtitle files from the world's most respected automated QC systems. Drop your files and QC reports launch automatically and attach to the record within BluConductor.
Issue Reporting
Full interactive issue entry and review. Users can jump to frames and timecodes with a simple click. Approval, Rejections and notification capabilities. Full reports export or email capabilities
Secure Video Playback
Playback with DRM, forensic watermarking and burn-in capabilities. 1x-8x playback speeds, frame accurate controls, real-time toggling between audio and subtitle files, keyboard shortcuts, time code and frame rate burn-in.
BLUSPOT
Detection using enhanced artificial intelligence
Ad Break Detection & Validation
An intuitive, automated detection and selection tool to streamline the process of choosing frame accurate markers for any type of audio and visual event.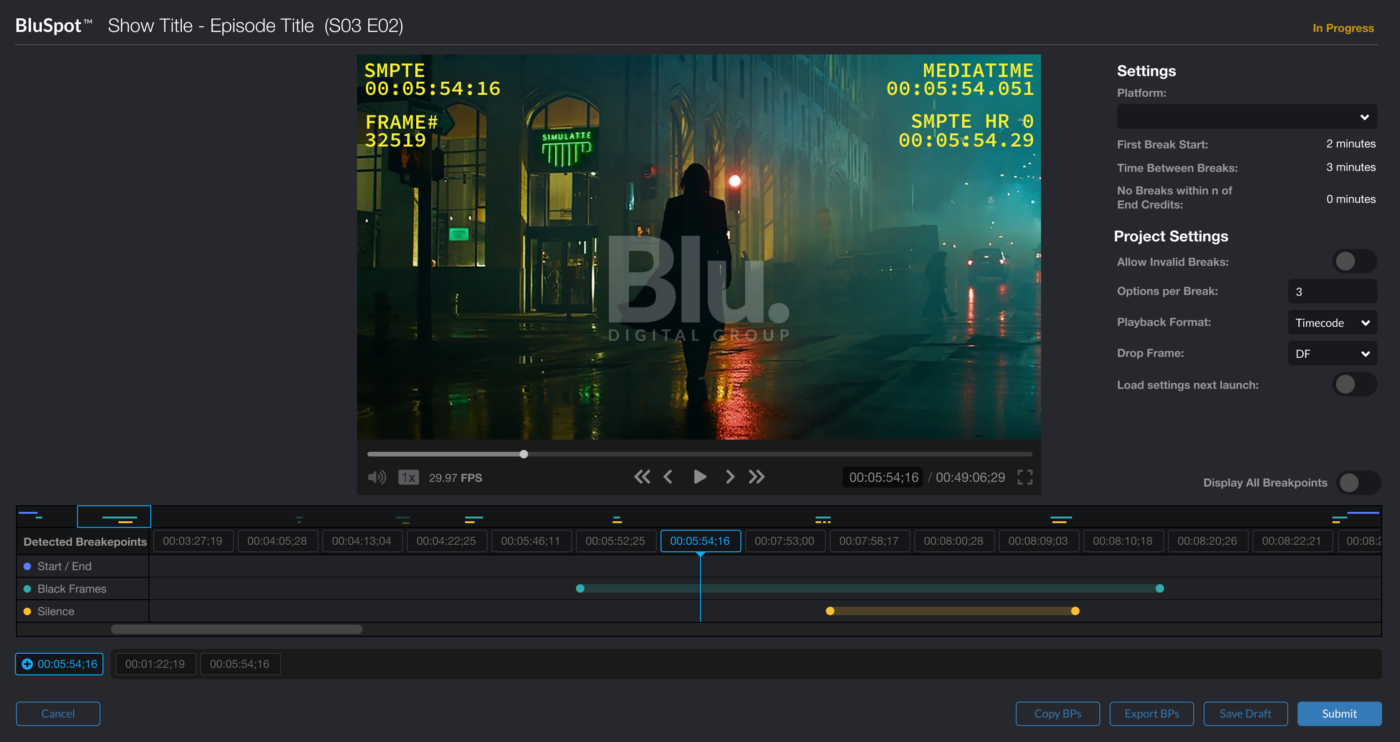 Automated Detection
Automated cue point detection based on criteria of video or audio such as "black and silence" or "scene changes" or "end credits".
Rules-Driven Validation
Validate automated generated points against specifications that are custom created or against predefined rules.
Profiles and Settings
Create unique profiles and specifications based on platform requirements or your own unique settings
Interactive UI
Robust timeline with color coding for scene breaks, black, silence or other criteria. Includes frame accurate video playback with keyboard shortcuts
Compliance & Content Moderation
Automated detection and listing of findings in video, audio and time text files using AI.
Profanity, Violence, Symbols, Gestures and more.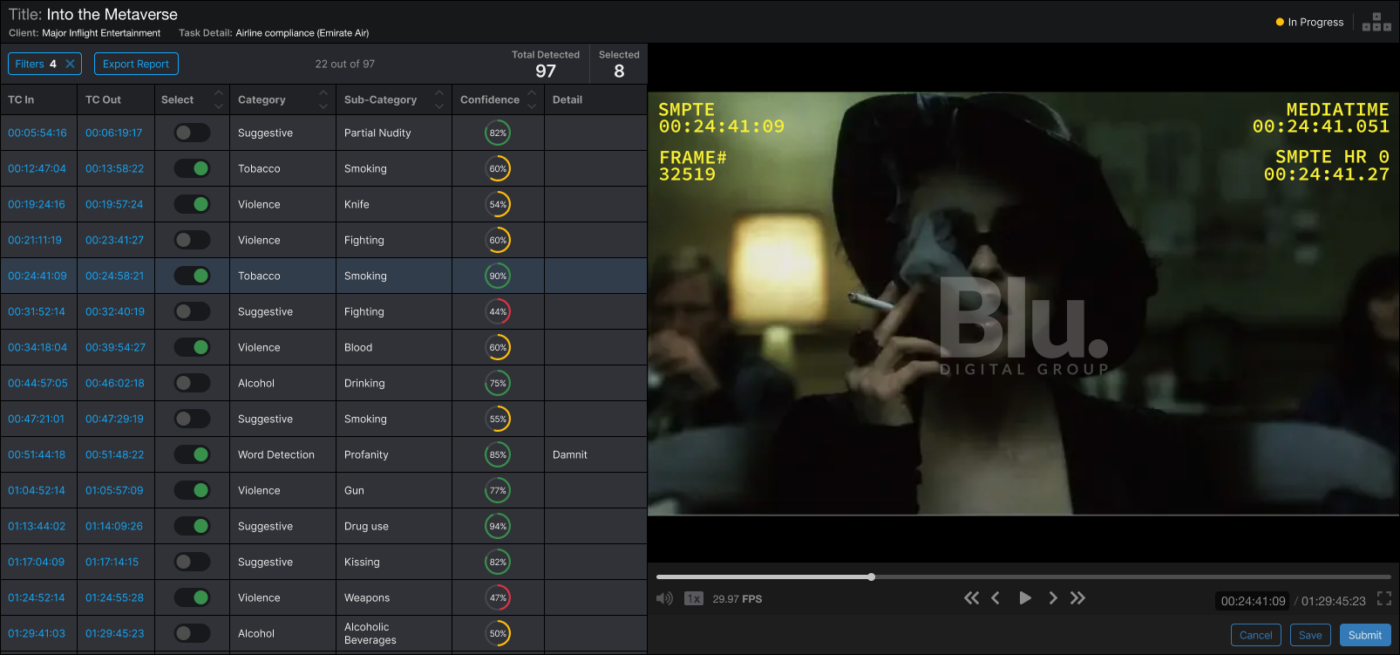 Blucast
Validation for Video Platforms
A validation "gateway" configured to a single video platform. BluCast ensures that metadata and media content are compliant and within specification before final ingest into a video platform reducing errors by over 99%.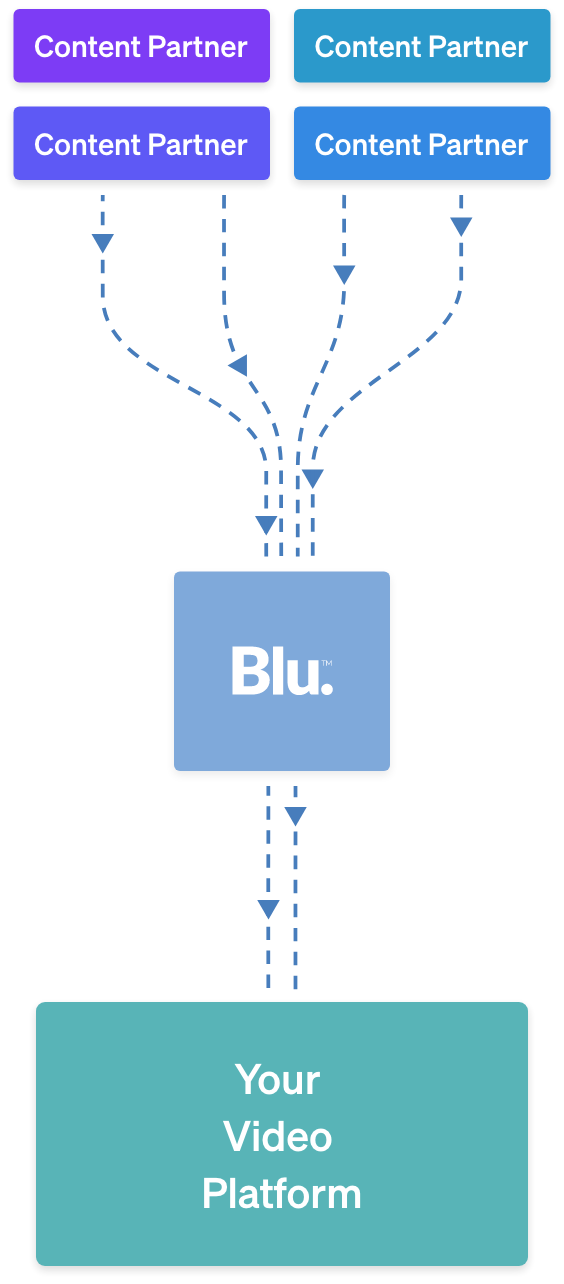 Content Partners drop in any file format. BluConductor automates validation to ensure the content meets your specifications. The validated content is efficiently delivered to your platform. You have full accessibility to the project at all times. Just like that.